VBingo Patterns
| | |
| --- | --- |
| Page 1 | |
| Any Corner Baseball | Double Dice |
| Page 2 | |
| Any 2 Lines Across | Any 4 Lines Across |
| Page 3 | |
| Any 2 Lines Up & Down | Picture Frame |
| Page 4 | |
| Lucky 13 | |
| Page 5 | |
| Letter X | Hourglass |
| Page 6 | |
| Any 2 Corner Stamps | 4 Corner Stamps |
| Page 7 | |
| Letter L | LN |
| Page 8 | |
| Houdini Blackout | |
VBingo Schedule
Played every Monday & Tuesday
at 6:30 PM
Friday Late Night at 10:30 PM
VBingo Info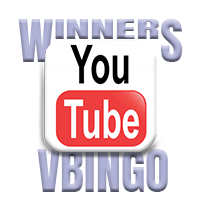 Click/tap the icon to go to our YouTube Channel!!
Remember to click subscribe and then click the bell to receive notifications.

Let's get familiar with using our youtube channel to play VBingo.

VBingo is playing paper bingo from the comfort of your home. You can play using your Smart TV, Smart Phone, Ipad, Or any other device that you can watch youtube on!

You can come to Winners Bingo and claim your prizes from 11 am to 9 pm on Wednesday through Sunday and from 11 am to 6 pm on Monday or Tuesday. You can also phone ahead with your order to 403-320-6588 or text 403-308-0419 on Game Day and we will have your order ready for you when you arrive. Please include your first name.